Custom Machine Integrator
With over 30 years of experience in machine design, ONExia has the knowledge and engineering staff to design and build your next custom machine system for your application.
Complete Custom Machine Services
ONExia is a proven expert at providing motion control and positioning products for machine automation applications. That same expertise can be applied to designing, engineering, constructing, and programming complete machine controls or turn-key machines.
What distinguishes us from other system integrators is our superior service. Our degreed engineers know automation and motion control. Every day we assist companies like yours in developing a concept, writing specifications and implementing new technologies.
Services Provided by ONExia
Complete turn-key solutions
Engineering services
PC based solutions
Custom assemblies
Inspection automation
Motion control technology capabilities
Database interaction programming
Circuit board design
Motor sizing
Mechanical design
Electrical design
Vision inspection programming
Motion and PLC programming
Visual Basic & HMI programming
Custom Machines
From concept to start up, we can take a custom requirement and give you a solution based on our extensive experience and expertise. We work with our customers to leverage their product and process knowledge with ours to create continued success. We have provided custom machines with just the capabilities our customers need, eliminating the cost of more expensive machines that have options they didn't need.
PC-based Control Solutions
Integrating motion control, process control, vision and data acquisition, and having Enterprise access is important for anyone who wants to compete. We offer the technology to give you top-level access to shop floor - using Ethernet, database and web server access!
Inspection Automation Capabilities
Utilizing the latest technology in smart vision sensors and complete vision inspection, we have assisted customers perform measurement, vision guided motion and on-line inspection.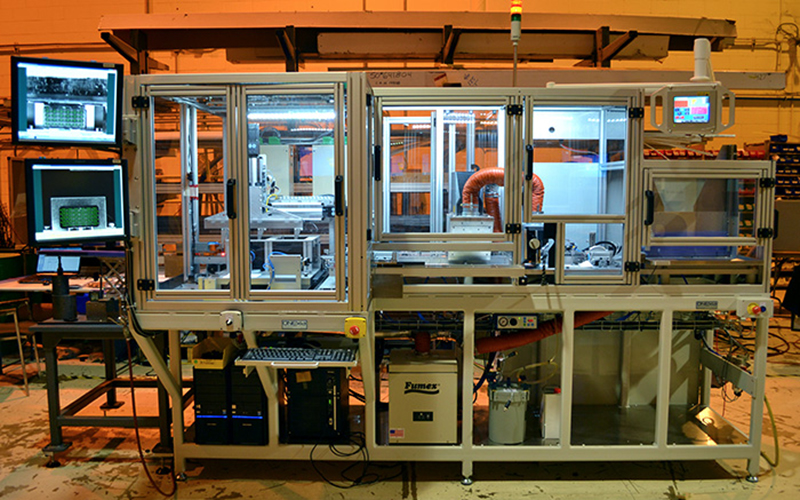 Why Choose ONExia?
ONExia offers many value added services, solutions, and support that make us the ideal partner for your next custom automation project.
An Exention of Your Engineering Staff
ONExia gives your company the ability to have custom machines built by taking advantage of our enginnering staff.
Above and Beyond Other System Integrators
ONExia distributes what we use in our machines giving us reducing risk and eliminating a learning curve.
We work with our customers to design specifically to their needs and integrate seemlessly.
Over 25 years of experience designing machines that have never been designed before.
Expect the Best
The success of a project depends on how well we meet your expectations.
ONExia works with your team to define what acceptance criteria for the project will be, so we know what you expect as well as how the final product will be tested.
Going the Extra Step
We take pride in our custom machines from the first concept meeting through training and support.
To ensure quality we have internal design, fabrication and powder coat capabilities.
For reliability, we ferrule all wires in our control cabinets, and label all wires with shrink tube wire numbers.
Documentation is one of the most important aspects of custom machine, so we make sure that at the end of the project you have all the documentation required for your team.
We believe that there is only one way to do a project: The Right Way!
Custom Machine Information Request
Let ONExia be an extension of your engineering staff. Fill out the form below with information regarding your application or project. We look forward to working with you!