Robotiq
Robotiq offers Grippers, a Wrist Camera and Sensors that are flexible, easy to use, set up rapidly and configure in only a few minutes. The Robotiq products come in Plug + Play packages to integrate seamlessly with collaborative robots like Universal Robots.
Robotiq FT300 Force Torque Sensor
Robotiq's Force Torque Sensor enables you to automate force sensitive tasks. With our Path Recording UR+, you can program complex robot movements in seconds, without having to set any waypoint.
Applications
Precision part insertion
Assembly and fabrication
Product testing
Because it's a digital signal, the Force Torque Sensor is not affected by surrounding noise and provides a stable, precise measurement of force applied on the process or part.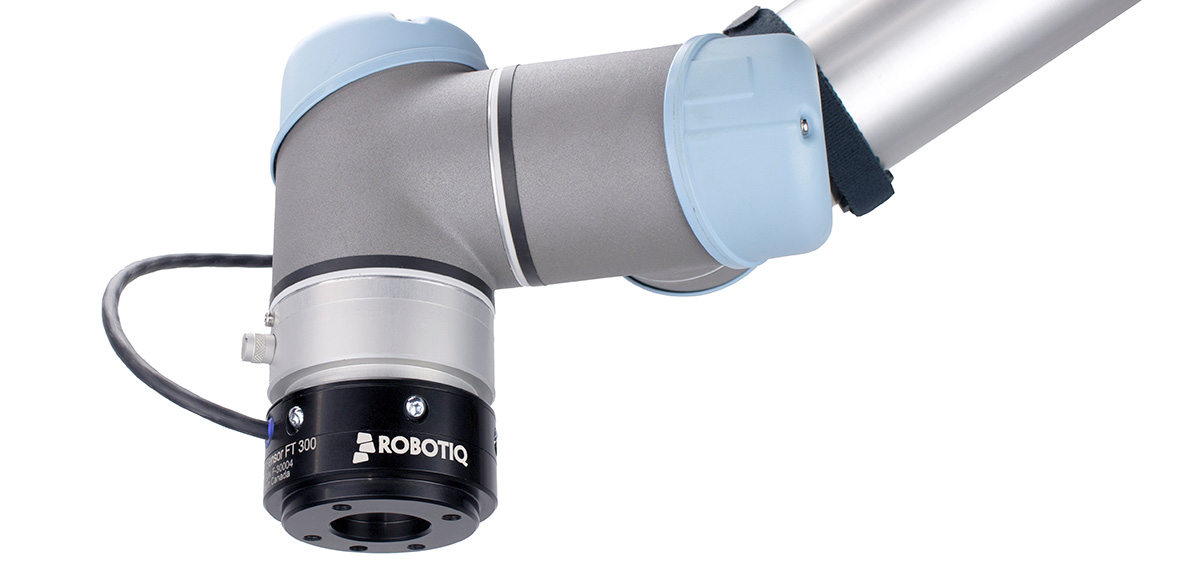 Easy to Integrate, Easy to Use
You don't need a background in robotics to use the FT300 Force Torque Sensor. Press record, move the robot, press stop. You're done programming your robot movement.
The Force Torque Sensor is designed for Universal Robots and has perfect mechanical fit with all UR models.
Features
Automate force sensitive tasks
Reliably perform precision part insertion, assembly and fabrication, product testing
Made for Universal Robots
Quick installation
Path recording with Force Torque Sensor URCap
Increase direct teaching precision with ActiveDrive toolbar
2-Finger Adaptive Robot Gripper
The 2-Finger Gripper is easy to integrate and easy to use in all automation cells in your factory. It handles parts of various sizes and shapes.
Applications
Quality testing
Machine tending
Assembly
Pick & place
Use up to four Grippers on one Universal Robot arm and take your cycle times down a notch. The multiple gripper configuration is a perfect fit for machine tending tasks, such as a CNC machine or an ICT machine.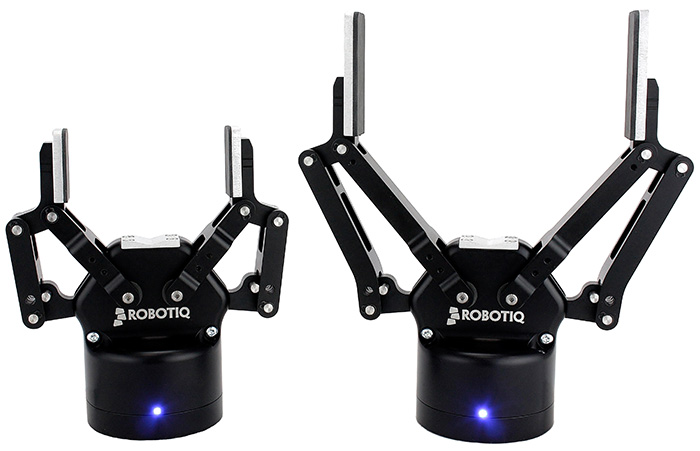 Ease of Integration
The 2-Finger Adaptive Gripper offers Plug + Play integration with all Universal Robots models. Using the embedded URCap software for Universal Robots, you have full control over the Gripper, without writing a line of code.
Features
2 different grip strokes configurations (85 mm to 140 mm)
Control Gripper force, speed and movements from the visual interface
Use multiple Grippers on one Universal Robot arm
Perfect mechanical fit
The 2-Finger Adaptive Gripper is also compatible with all major industrial robot manufacturers. We provide mechanical and communication options to support all the major brands.
Wrist Camera - Plug & Play Vision for Universal Robots
Robotiq's Wrist Camera brings Plug + Play vision for Universal Robots in your factory. With a 30-minute setup time, it locates objects on a work surface, without any coding required.
Applications
Machine tending
Assembly
Pick & place
Robotiq's Wrist Camera is the simple, easy-to-use, part location option that works exclusively with Universal Robots. With the Wrist Camera, you eliminate the need for expensive, custom fixtures to present your parts.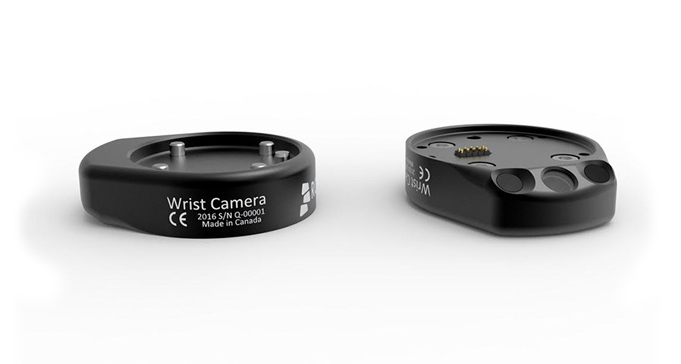 Simplified Vision Integration
The Robotiq Wrist Camera is a perfect fit for all UR models with controller 3.1+. There is no custom wiring, no external PC required to set up, program or run the Camera..
Features
Perfect fit for UR
Fits on all UR wrists and connects directly to the robot controller
No external controller
No external PC required to setup, program or run the camera
The Wrist Camera enables the use of Universal Robots in unstructured environments, eliminating the need of complex and costly jigs in order to position your parts. It simplifies robot cell integration and saves valuable time getting into production.
3-Finger Adaptive Robot Gripper
For maximum versatility and flexibility, the 3-Finger Gripper is the best option. Ideal for advanced manufacturing and advanced robotic research, the 3-Finger Gripper will pick up any object of any shape.
The 3-Finger Gripper is compatible with all industrial robots. We provide convenient ready-made integration packages for Universal Robots.
A ROS package is also available and supported. With Robotiq's 3-Finger Gripper, you'll focus on your research objective instead of struggling to integrate your end effector.