Microscan
Omron Microscan helps manufacturers drive down cost, automate critical manufacturing processes, and increase yields through data acquisition and control solutions. Product technology ranges from basic barcode reading through complex machine vision.
Laser Barcode Scanners
Laser barcode scanners are ideal for applications that require high-speed reading of linear codes or stacked symbols.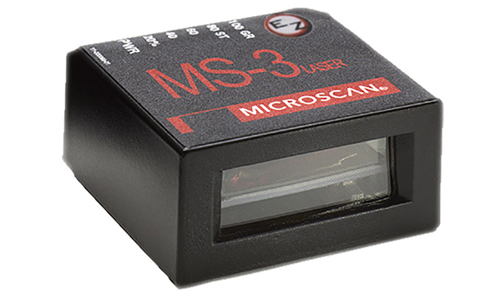 MS-3 Compact Laser Scanner
The MS-3 laser barcode scanner offers the fastest read performance in embedded compact barcode scanners. The wide scan angle of 70 degrees is coupled with ultra-compact size and flexible mounting.
Decodes/second: up to 1000
Read Range: 2 to 10" (51 to 254 mm)
Wide Scan Angle
IP54 Enclosure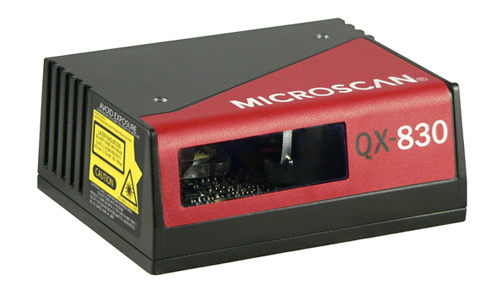 QX-830 Industrial Scanner
The QX-830 industrial barcode scanner combines revolutionary flexible connectivity with high performance decoding capabilities to reliably read 1D barcodes in almost any automation environment.
Scans/second: 300 to 1400
Read Range: 1 to 30" (25 to 762 mm)
Optional Embedded Ethernet TCP/IP & EtherNet/IP
IP64 Enclosure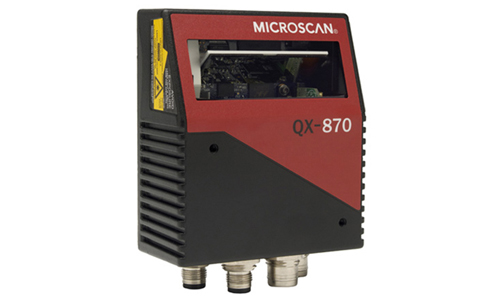 QX-870 Industrial Raster Scanner
The QX-870 laser scanner partners the latest technologies in barcode reading and connectivity into an easy to use solution for barcode track, trace and control applications.
Scans/second: 300 to 1400
Read Range: 1 to 30" (25 to 762 mm)
Optional Embedded Ethernet TCP/IP & EtherNet/IP
IP65 Enclosure
2D Barcode Scanners
2D fixed-mount readers feature the latest imaging technology for decoding both 2D symbols, such as Data Matrix, and linear barcodes. Engineered with modular hardware features in space-saving designs, MicroHAWK® readers offer unrivaled performance for reliably decoding challenging codes and direct part marks (DPM).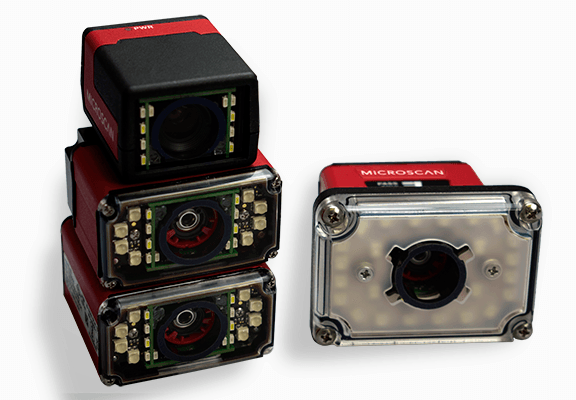 MicroHAWK Barcode Readers
The MicroHAWK® family of barcode readers offers the most versatile decoding power available. Built on the highest-performance imaging engine in its class, MicroHAWK readers offer an array of modular hardware options to take on any decoding task in three micro form factors.
Paired with the WebLink browser-based barcode reading interface, plus liquid lens autofocus (ID-30 and ID-40), MicroHAWK is unrivaled in the industry for intuitive setup and use by any operator. Using MicroHAWK is as easy as plugging in power and opening a browser.
4 models: ID-20, ID-30, ID-40 & ID-45
New! UHD lens with auto focus reads smallest possible codes
Read any code on any surface
Highly customizable hardware options
World's smallest industrial barcode readers
World's first web-based barcode reader - WebLink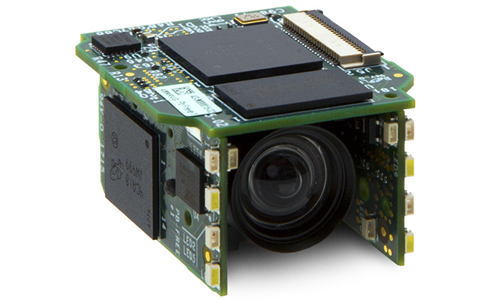 MicroHAWK Engine
The MicroHAWK® Engine offers OEMs and machine builders the industry's smallest, most powerful, modular, and scalable auto ID platform available for solving the toughest 1D/2D barcode reading challenges.
Ultra-compact
Highly modular
Extremely powerful
No Software required
Reliability and longevity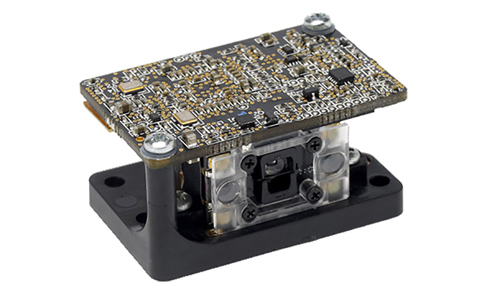 MS-2D Engine
The MS-2D engine is an ultra-compact barcode imaging system that can be easily integrated into any device. Featuring advanced technologies for decoding, the MS-2D engine includes a dual optical field for reliable reading.
Easy setup
X-Mode technology
Low 5V power draw
Multiple configurations
Ultra-fast microprocessor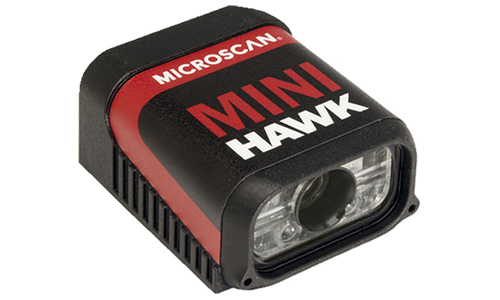 MINI Hawk Imager
The MINI Hawk is a powerful miniature imager that solves a wide range of data tracking and traceability needs across all industries. It provides aggressive barcode reading algorithms and easy setup for any 1D, 2D, or direct part mark (DPM) application.
Autofocus
Lightweight
Ultra-compact
Optional USB connectivity
X-Mode decoding technology
Smart Camera
This smart camera builds upon the previous generation by quadrupling processing power and achieving real-time trigger response with an FPGA.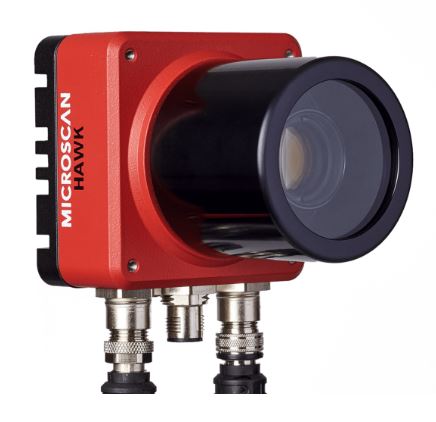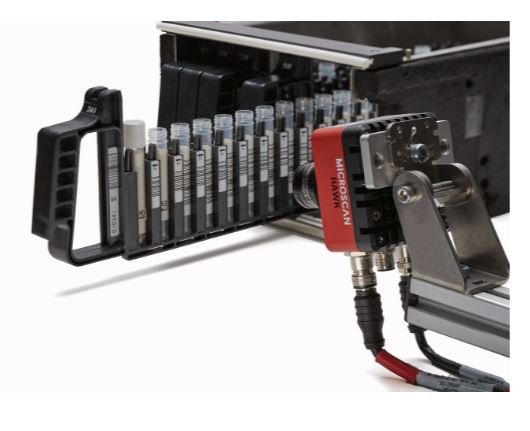 HAWK MV-4000
The HAWK MV-4000's image-centric user interface with drag-and-drop programming makes it simple to set up. The average operator or technician will appreciate the intuitive AutoVISION user interface (UI) that gets the reading, verification and vision tools ready to read right out of the box.
Full Industrial Connectivity
Extremely Rugged
Powerful and Flexible
High Frame Rate Sensors
Complete Vision, Code Reading and Code Verification Toolset
Near PC Processing Speeds
Fully Accessorized with Lenses, Lights, Cables and Mounts
Programmed Using AutoVISION or Visionscape
Mini Smart Camera
The Vision MINI smart camera is designed specifically for reliable vision performance in embedded identification and inspection applications. As the world's smallest fully integrated vision system.
Vision MINI Smart Camera
With the Vision MINI, OEM design engineers can quickly implement robust inspection, color matching, symbol decoding, OCR and more in a single compact vision solution.
The Vision MINI is the world's smallest fully integrated vision system. Its compact size allows flexible positioning in tight spaces. The lightweight and durable magnesium alloy case weighs less than 2 oz.
OEM- Ready
Ultra-Compact
Storage for Multiple jobs
Powerful Capabilities
Long term availability and reliability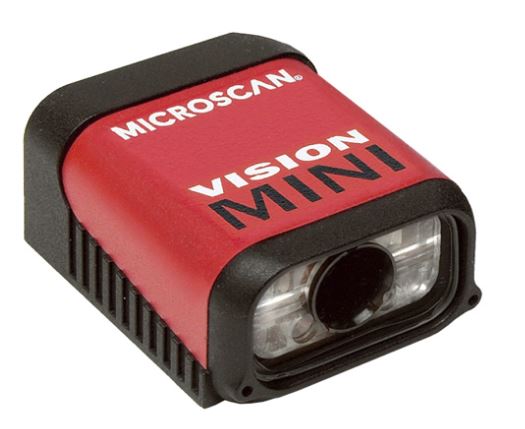 Vision Software
Microscan offers two software packages that are designed to assist in quickly setting any type of vision application. AutoVISION is designed for quick basic operations and Visionscape is for complete machine vision systems.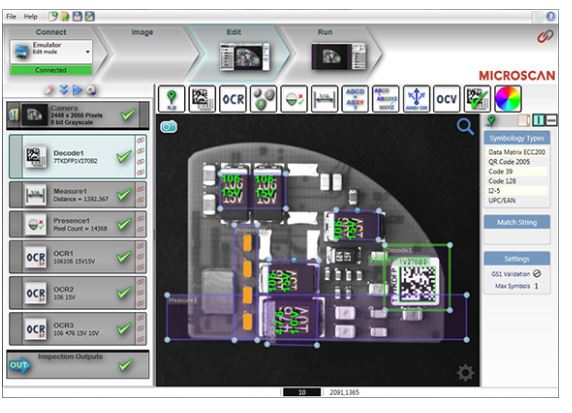 AutoVISION Machine Vision Software
Omron Microscan's AutoVISION is the easiest machine vision software available for basic to mid-range vision applications. Process and manufacturing engineers no longer need to become experts in machine vision in order to successfully deploy a system that meets their traceability, inspection and quality control needs.
Visionscape Machine Vision Software
Visionscape is a comprehensive machine vision software for multi-platform use and is a completely scalable, single-software package for use with GigE cameras and smart cameras. This means application developers only need to learn one consistent software environment, and can choose the most appropriate platform for their applications.
Vision System
PC-based Gigabit Ethernet systems leverage standard network components such as cabling, switches and interface cards. Visionscape GigE supports a complete set of Omron Microscan machine vision GigE cameras which, in combination with Visionscape software, allows for rapid deployment of any scale of machine vision solution.
Visionscape GigE Integrated Vision Solution
From an economical single vision smart camera system to a sophisticated eight camera application, Omron Microscan's Visionscape® GigE Machine Vision System contains all necessary components for a complete, successful machine vision implementation.
High speed, high resolution image processing
Provides full capabilities of powerful Visionscape software
System implementation uses standard network components
Support up to eight Visionscape GigE cameras
GigE cameras available in multiple configurations, including: VGA Mono or Color CCD, VGA Mono CCD High Speed, XGA Mono or Color CCD, SXGA Mono or Color CCD, UXGA Mono or Color CCD, QSXGA Mono or Color CCD, QSXGA Mono or Color CMOS, QUXGA Mono CCD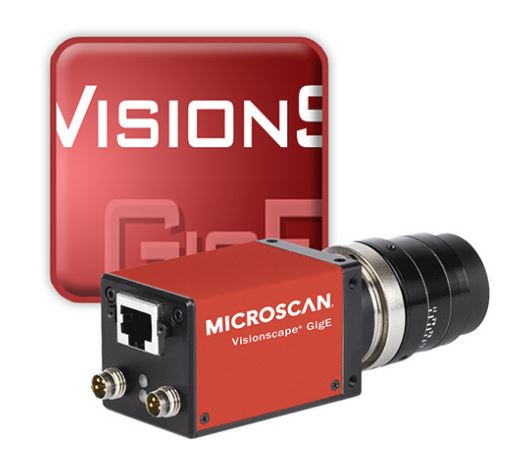 Handheld Barcode Readers
From identifying samples in clinical labs to reading tough direct part marks (DPM) on automotive parts, there is an Omron Microscan handheld reader with just the right features to solve any application need.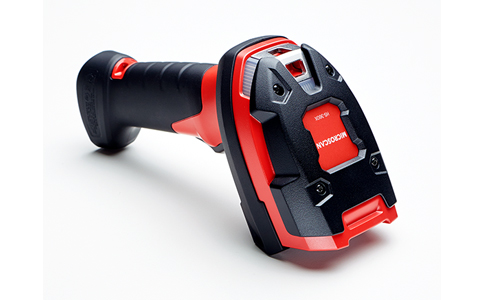 HS-360X Scanner
The HS-360X Ultra-Rugged Handheld Imagers is anindustrial Direct Part Mark (DPM) handheld imagers, purpose built from the ground up to set new standards for durability and performance.
Wired or Wireless
Ultra-Rugged DPM Handheld
Industry-Leading DPM Decoding Performance with X-Mode
Intuitive WebLinkPC Interface
HS-21 Scanner
The HS-21 2D handheld imager provides fast decode rates and long range reading in a lightweight, durable package. Its dual field optics decode most 1D and 2D symbols in any orientation.
Dual field optics
Low power draw
User-friendly design
USB, RS-232 interface options
Reads most 1D and 2D symbols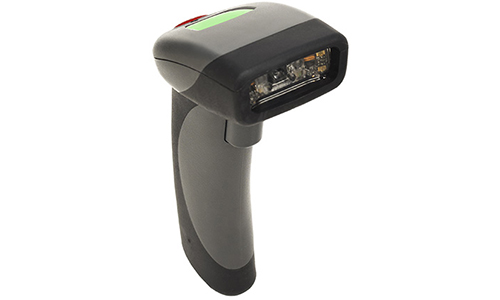 HS-41X DPM Reader
The HS-41X is a compact handheld imager for decoding low contrast 2D symbols on substrates such as sheet metals, castings, plastics, and electronic components.
Dual field optics
Low power draw
Durable enclosure
X-Mode technology
USB, RS-232 Interface options
Reads most 1D and 2D symbols